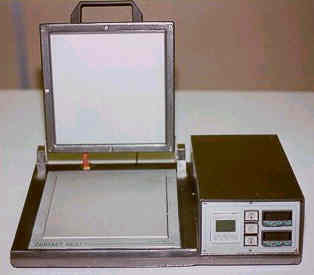 To determine color /colour fastness (sublimation) to dry heat and hot pressing.
To standards ISO 105, BS 1006, AATCC 92, 114, 117, 133 DIN.
Contact Heat Scorch testers
Pressure applied via heated top plate. Various types in stock.
Contact heat units Sublimation :
Atlas scorch single small head 120v
Roaches Twin head, small plate 7"x4"
Heraeus Fixotest, 3 head, small plate
Roaches Single head, large plate 8"x8"
Roaches Single head see photo.
Please contact us here to make an enquiry.