Martindale abrasion Pilling tester
The latest Martindale for cloth abrasion or fabric pilling comes in a 4, 6 or 8 head format.
The machine conforms to BS EN, ISO, ASTM, Marks and Spencer and DIN standards as well as other national standards. The control system has been especially developed for the Martindale APS and provides a host of options and information which make testing easier.
The machine is available with 4, 6 or 8 workstations and all feature the same state of the art control system.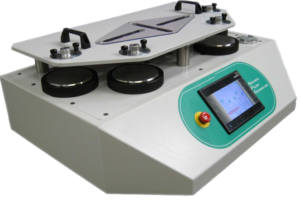 Comparative Check List
〈Choice of three operating modes
Standard Mode, giving one preset value for all positions.
〈Multiple Preset Mode, all workstations can be set to different preset values allowing multiple tests on one machine, also any user influences can be allowed for within the test as each workstation will stop the machine when its count has been achieved.
〈Counter Profile mode, up to 5 individual counters can be preset to different values, allowing tests to be pre configured at the start.
〈Counters can be turned on or off for any position at any time, giving the user the facility to check one workstation whilst continuing to run the other workstations.
〈Individual counter per position.
〈Individual Alarm per workstation, when in Multiple Preset Mode.
Time remaining per workstation, when in Multiple Preset Mode.
〈Progress bar and time of finish, allowing the user to manage their time around the test cycle.
〈Abradant check alarm, with individual alarms for each workstation.
〈Integrated motor protection within the controller.
〈Integrated help pages.
Used martindales also available.
Please contact us here to make an enquiry.