---
---
---
Used Yarn Testing Equipment 
Skein gauges, W.I.R.A. Graphing Balance. also a modern computerised version with digital balance. HATRA crimp rigidity tester, Gaydon yarn length tester precision yarn cutter from 50mm to 1 metre, Starch refractometer. Elkometer. Hand operated cone winder. Mesdan & Cooks knotters. Minathon & Cel noise level meters. Braun stroboscopic rev. counter. Rotronic digital hygroscope. Rothchild static voltmeter R-1020, Yarn length measurers. Traveller removers and inserters Bracker Girl, Boy & Eadie Bros. Quadrant balances, Various thermohygrographs and thermographs, digital temperature recorders, new and used thermometers. Shirley tube test apparatus, Universal yarn assorting balance. Smiths tachometers, Densimeters, Assman, Cambridge and Whirling hygrometers.
---
Shirley Mini Spinning Plant 
Comprising : PLATT Miniature Carding Machine.
Sample cotton card laboratory. Sample laboratory Miniature Draw Frame. Miniature sample laboratory Ring Spinning Frame.
Previously fully reconditioned and sold by SDL
10" (300mm) working width with feed apron, feed roller, feed plate, taker-in, cylinder, doffer and doffer comb. Fitted with 8 stationery flats, take-off to revolving drum to feed Shirley miniature draw frame or other tests. Metallic card clothing throughout.
Supply creel to accommodate web drum from Shirley miniature card. 4 roller, 2 zone drafting system for short, medium or long staples. Producing sliver wound on drum suitable for further processing.
8 spindle single sided machine, creel for 2 drums of miniature draw frame sliver each feeding 4 spindles. 2 zone apron drafting system for staples up to 64mm (2.5") to be processed at drafts up to 400. After spinning yarn is wound on ring tubes for ease of testing and evaluation.
---
Sample yarn twister Calvani Duotex Ritorcitoio Jet 4f
4 end Calvani Duotex in stock
---
---
SKF Spintester
6 head sample spinning plant for longer fibres; wool, alpaca, mohair etc.
---
Sample Cards  
Sample card with hopper 50cm wide two workers and strippers
Sample card 50cm roller width with 3 workers and strippers, doffing roller. 60 cm dia.
---
Murata Mach Mini Splicer or Knotter Murata Mach Mini 7R2
This is a 1991 single head winder winding machine.
Two machines available one with a knotter the other with a splicer, also available with Uster clearers.
Yarn Splicer / winder High speed yarn splicing, winding.
---
Zellweger Uster Stock 
UT5 no! but UT4 SX and equivalent, Uster tester 3 , UT3 and UT3C / Uster tester 3C,
Keisokki type C
Uster tester 1, UT1, Uster tester 2, UT2,Uster Afis Uster HVI Mini Uster
Uster Dynomats. AD ( all spares and repairs available)graph paper and pens.
Uster classimat 1 (spares also) and Classimat 2.
Peyer Almeter
Uster Levelness, Uster, Keisokki evenness tester type C reconditioned,used Spectrographs, Integrators, Imperfection indicators and graph recorders all available separately. New consumables stocked e.g.. graph paper, ink, pens etc. Massive stock of spare parts. Trub Tauber recorders.
Computer conversion and software for most evenness testers.
Uster slubbing supervisors. Uster measuring heads. (cashmere)
GGP
Uster UT3
Keisokki type c
UT4SX
Yarn Hairiness testers
Meiners Del HSB hair scan Y103C Portable Yarn Hairiness Monitor
SDL yarn hairiness and friction tester with pc
SDL Yarn Hairiness tester
---
Moisture Meters
Various moisture meters for cotton, wool and all types of fibres and yarns.
Deltamoist,
Mahlo textometer,
KPM, Stranberg, Uster Aquarius.
---
Driers for Yarn, Fibre and Fabric
---
Twist Testers 
Twist testers Over 100 in stock!! Hand or motorised twist testers, singles, folded yarn, tpi and t.p.i., 1″,10″, 500mm. 250mm and 100″
Twist tester for both two fold and single yarn, quadrant twist tester and direct untwist twist tester.
Most do both S and Z twist directions.
Zweigle fully automatic D301
Pricesstart at £ 100.
A small sample of our selection.
Yarn Count Testing 
Wrap Reels
Wrap block, to determine the yarn count or yarn number, skein winder,
Automatic wrap reel, hand operated wrap reel, metric wrap reels, imperial wrap reel. In stock motorised or hand operated imperial or metric , 4, 5, 6, 8, and 10 end all in stock. Over 50 in stock!!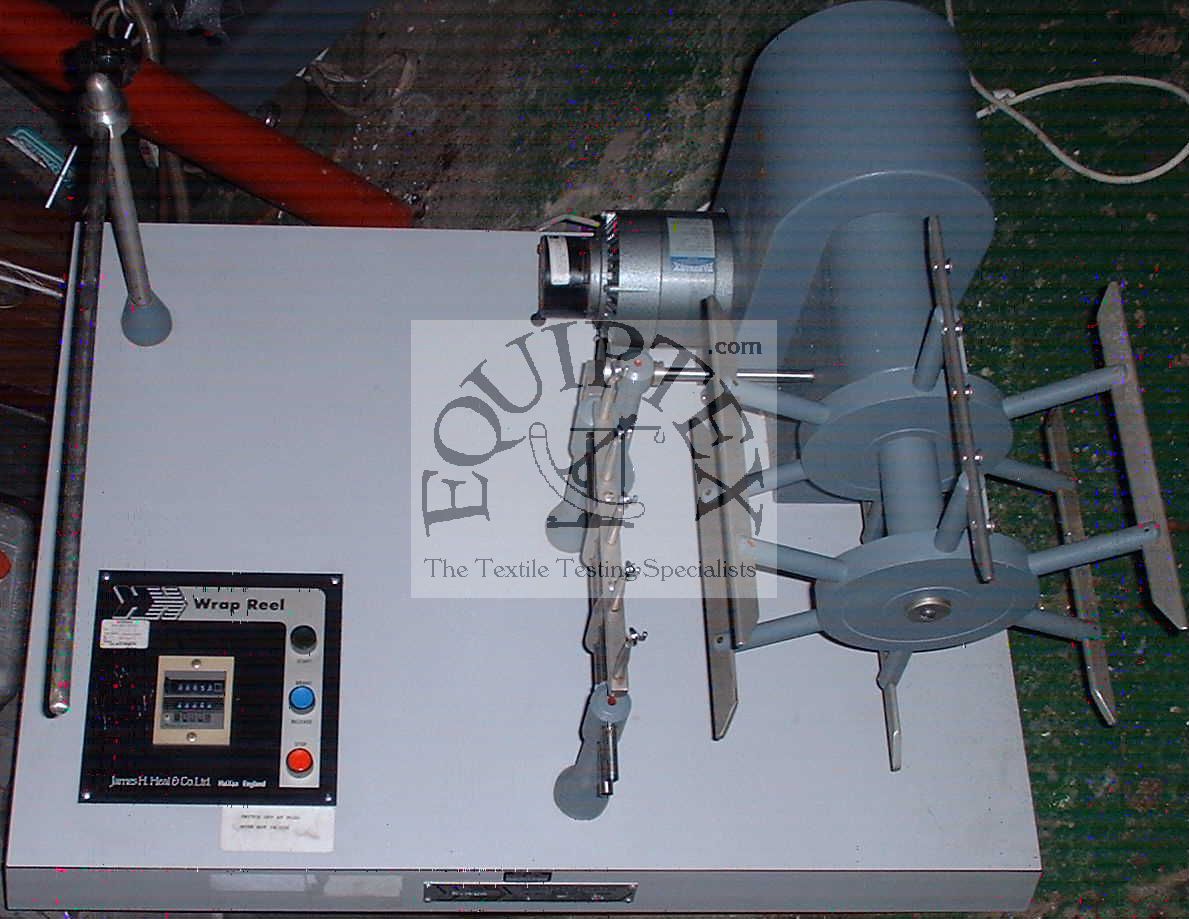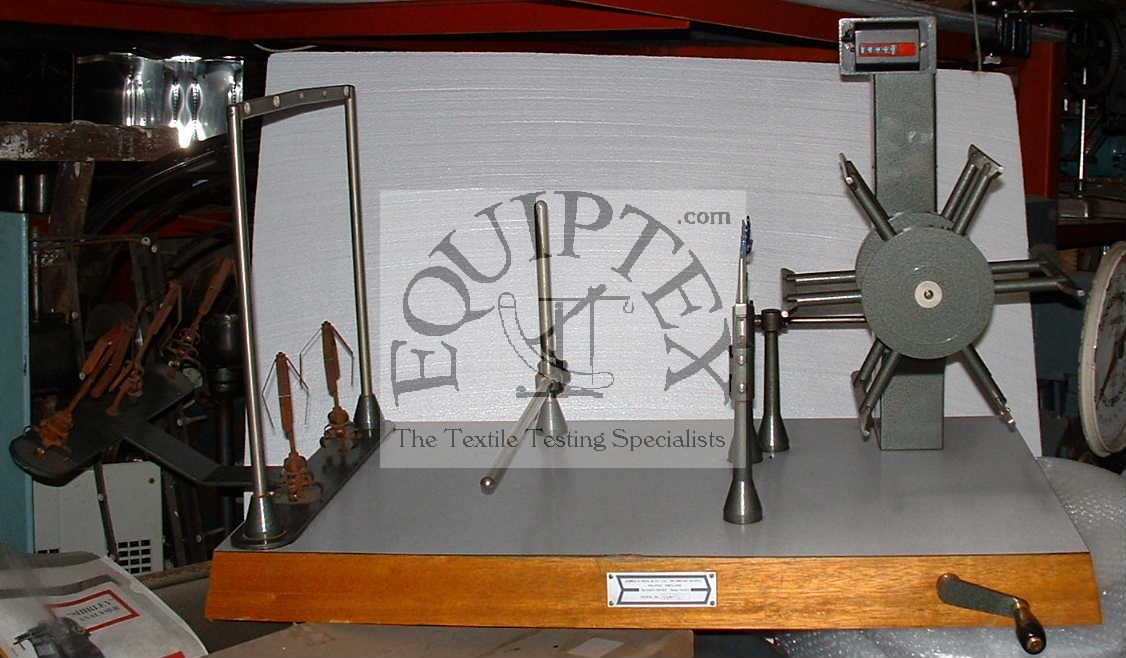 USTER Autosorter 1 & 3. Betacount 2, Automatic count analysers. Various types of balances are available for most count systems.
From old quadrant balances to more modern digital direct reading scales.
---
Yarn Friction
Used yarn friction recorders in stock:
Rothschild. F-Meter with analogue computer and winder R 1083
SDL Hairyness Friction Tester with pc and software.Shirley friction testers, both integrated drum and separate drum types, all spares and accessories eg pens, paper circles etc.; SDL digital , Lawson Hemphill with friction meter test stand.
Zweigle G530 and Schlarforst.Shirley yarn friction recorder. Meiners digital readout,Shirley banjo, with printer,
Our New Friction Tester
Yarn friction is a recurrent source of difficulties in knitting most products on most machines. Problems may arise from inherently high friction yarns, form variations between batches, from a rogue cone within a batch or from changes that occur in storage. Whatever their origins, frictional variations are a major cause for concern, reducing productivity, disrupting work flow, increasing rejects and lowering quality. Friction usually shows up as an increase in knitting tension. Even if the tension does not rise enough to break the yarn, then in the absence of positive feed, high friction will give tight courses resulting in barre, short blanks, or other defects.
Routine checking of incoming yarn can eliminate the problem at source by ensuring that yarns are adequately lubricated before they are issued. If problems do occur, friction testing is a powerful tool in diagnosing their cause.Features:
* Proven design.
* Simple, robust construction.
* Easy to use.
* Direct reading.
* No pointer oscillation.
* Minimum Maintenance.
* Inexpensive
---
---
Sample Sock Kniting Machines
Harry Lucas
Griswold
Lawson Hemphill 'FAK' Knitting Machine
Knitting machines.
Lawson Hemphill FAK 3 or 4 feed single head with spare cylinder
18needles /1" and 24/1" 3.5" dia.
W.B. & R. Ltd. Free standing single head mch 3.5" with 4 cylinders motorised.
Italian single cylinder motorised with cams 3.5", 8 gauge
We also have a good number of "Grizwold" type machines in stock both hand operated and motorised prices from about £ 450, needles should be sourced by customer.
Eg 3 gauge motorised
12 gauge hand
10 gauge hand
10 gauge hand
16 gauge motorised.
Gauge = no. of needles / 1" approx. !
---
Testrite Yarn Shrinkage Tester 
This machine was originally designed in conjunction with the Tyre Technical Division of Dunlop Rubber Co. Ltd., to determine the shrinkage of tyre cord yarns at closely controlled temperatures. It has since been modified to enable similar tests to be carried out on 1″ wide strips of fabric, as well as yarns, mono-filaments etc. Samples under test are exposed to the controlled air. Temperatures between two 10″ wide heated platens, and shrinkage per cent is indicated on a scale. Residual shrinkage can be ascertained by removing the sample from the heated zone and allowing it to cool. A.S.T.M. Designated No. D4974-89.
Temperature range is adjustable from ambient to 250°C.
Testrite Mk V Shrinkage and Force Tester
Designed and based on the original T.S. AB idea, to determine the shrinkage of tyre cord yarns at closely controlled temperatures, this digital Shrinkage and Force Tester incorporates these ultra modern features.
1. Heater and Hardware Unit remote from separate control module (for ease of service and repair.)
2. Control module features a large bright 16 character alphanumerical display.
3. Three term P.I.D. controller with +/- 0.25°C deviation.
4. Standard RS 232 Output to link to your computer (gives ASCII output of load or shrinkage everytime a graph point is plotted.)
5. 20 Key Touch Pad to programme test requirements.
6.Temperature range of ambient (20°C) to 250°C.
7. -5% to +32.5% Shrinkage range.
8. Either 0-25 Newton or 0-100 Newton force range.
9. 0-99.9 Minute Timer (almost 1.40 hours).
10. Built in miniature printer producing accurate graph of result.
1. Output provided 0-2V for larger recorder.
12. Average key.
13 Voltage either 110V 60Hz or 230V 50Hz.
Approx Shipping weights and Measurements:
Packing Case: 75 x 52 x 46 cm
Gross Weight: 55 lb (25 kg)
Nett Weight: 44lb (20kg)
About Us
Equiptex has been supplying textiles lab equipment for over 40 years. Our loyal customers are some of the largest brands in the world, 3M Nike, Adidas, Mulberry and many more.
Search For Products
Product Categories
Used Textile Testing Equipment
Yarn Testing
Fiber Testing
Fabric Testing
Uster testing 
Sample Cutters
Carpet Testing
Card Spinning
Laboratory Dyeing
Tensile strength testers
GSM Balances and scales
Hand Looms and spinning
General Textiles lab equipment
Contact Us
1 Sapgate Ln,
Thornton,
Bradfod BD13 3HD
Tel: 00 44 (0)1274 831000
Fax: 00 44 (0)1274 831111
Email: mail@equiptex.com