We have a large number of used tensile and compression machines in stock UK. Spares and repairs are available for most UK machines.
Used tensile strength / compression testers:
Testometric Micro 250 (single column)
Testometric Micro 350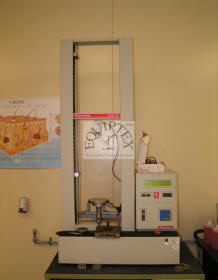 Hounsfield H5000M 500N load cell with pc
Zwick 1435
Instron 4464
Instron 1011
Instron 1161 digital readout
Instron 1026 s
Lots of Instron spares carried eg. load cells and grips etc.
Simple electronic, variable speed 0 – 5 kgs
Testometric 500N
Yarn and fibre strength testers available.
Spare parts and consumables:
Instron 1026 all parts in stock. Graph paper 3710-013 pens, gears etc.
Graph paper 3710-006
Testometric Grips available
Instron, various grips, even hydraulic grips and pump.
Tinius Olsen grips
Calibration available on all tensile testers.
These tensile testing instruments / tensometers are mainly from companies that have used them for cloth strength tests, seam slippage testing and the like. However they remain suitable for a variety of uses either as tension testers, or compression testers in a wide industrial field.
Please contact us here to make an enquiry.
We also have a large stock of new tensile strength testers.
About Us
Equiptex has been supplying textiles lab equipment for over 40 years. Our loyal customers are some of the largest brands in the world, 3M Nike, Adidas, Mulberry and many more.
Search For Products
Product Categories
Used Textile Testing Equipment
Yarn Testing
Fiber Testing
Fabric Testing
Uster testing 
Sample Cutters
Carpet Testing
Card Spinning
Laboratory Dyeing
Tensile strength testers
GSM Balances and scales
Hand Looms and spinning
General Textiles lab equipment
Contact Us
1 Sapgate Ln,
Thornton,
Bradfod BD13 3HD
Tel: 00 44 (0)1274 831000
Fax: 00 44 (0)1274 831111
Email: mail@equiptex.com